VOL. 23, NO. 10
NOVEMBER 21, 1997

---

SPORTS
Lions in Winter: Columbia Basketball
Determination and New Recruits Promise a Scrappy Season
---
BY HEATHER CROZE, TODD KENNEDY, AND AMY CALLAHAN
---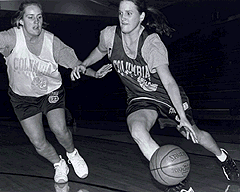 Courtney Allshouse takes it to the hoop during a recent practice. On defense is teammate Catherine Tubridy. Record Photo by Amy Callahan.

he Ivy League may not be a friendly neighborhood for Columbia this basketball season. But the Lions should not be underestimated.
At recent practices in Levien Gym, thundering dunks came from first-year men with some height. And the women were talking it up, collecting some floor burn, as they enter the season as a cohesive team with hustle.
In the men's game around the league, Princeton is the pre-season favorite. Two years after the departure of Princeton's legendary coach, Pete Carril, the Tigers are doing just fine and are expected to win the Ivy title for the second year in a row under Bill Carmody. And, according to the conventional wisdom, not far behind will be Penn's Quakers, which return with nearly their entire roster intact.
For the women, the league's most formidable team will be Harvard. In the pre-season media polls, the Crimson received nearly all the first place votes.
What follows is a closer look at the make-up of Lions basketball this year, and some thoughts from the coaches.
The men will play Holy Cross at home this Sat., Nov. 22, at 2:00 P.M.

The women will play Wagner immediately following, at 4:30 P.M.
Men's Basketball:
Youth and Experience
With seven of nine letterwinners returning this winter and nine freshmen joining the pre-season roster, it is difficult not to be optimistic about third-year Head Coach Armond Hill's squad.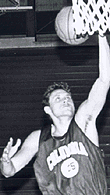 Justin Namolik. Record Photo by Amy Callahan.
The Lions have suffered from a lack of experience in recent seasons. But this year, Columbia will have nine juniors and seniors—six of whom have been starters or key reserves—on its roster.
The team's class of '99 has already started 117 games among them. To have that burden of responsibility thrust on them early in their careers was difficult, but it may prove a boon in the long run.
Captain Gary Raimondo has developed into the consummate hard-working player in the Ivy League, and was the conference's ninth-leading rebounder and 10th in assists as a shooting guard.
Erik Crep, a small forward who was asked to play center last year, made remarkable improvement defensively, as a post player and as a standstill shooter. Forward Justin Namolik has been one of the Lions' steadiest players; he hit 73 percent of his free throws and was among the league's top shot-blockers in his sophomore campaign.
Forward Pat Hernandez and guard Abe Yasser have been key role players, and Hill hopes they will contend for starting roles this season.
The Lions have also become a larger team this season: There are now eight men 6'-5" or taller. Last year, as a direct result of Columbia's small size, opponents pulled down seven more rebounds per game than Columbia, and shot easily at 48.4 percent for the season.
Lone senior letterwinner Jason Wachob has a good chance to regain his starting role lost midway through last season. Crep, who replaced Wachob at center, will likely be able to return to his natural position at forward with the addition of 6'-7" centers Mike Merley and Zach Schiller, who should add to the team's competitiveness with their diligence.
Several other newcomers join the Light Blue at the forward spot.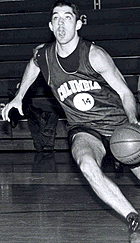 Abe Yasser Record Photo by Amy Callahan.
Tyler Ugolyn was ranked among the top 250 recruits in the nation and received honorable mention All-America from Blue Ribbon. He combines strength with a very good standstill shot. Kian Granmeyeh and Sheldon Jackson round out the freshman forwards.
At guard, the Lions have added Corey Barnes, Steve Cooper, Brad Gloger and Tony Mboya. Barnes may be Columbia's top recruit; the point guard is very quick and has scoring ability. Mboya—brother of Penn standout George—may also make an immediate impact.
"There seems to be real potential," Hill notes, "but all are freshmen and will have to prove themselves. The numbers will create a competitive atmosphere."
Steve Brown rounds out the letterwinners as the only sophomore. He showed maturity as last season progressed and played in 17 contests as a freshman.
The Lions feature more experience and size this season, the absence of which has been a problem for the team in Hill's first two go-rounds. Throw in a batch of 10 skilled freshmen, and suddenly there is potential for the Light Blue to be in the thick of things this winter.
Women's Basketball
Leadership, Mental Toughness
The Columbia women's basketball team won more games last season than in the previous three combined. Under the tutelage of first-year Head Coach Jay Butler, the Lions showed remarkable improvement.
This squad is relatively young, with only one senior. But the coach has identified other—perhaps more valuable—strengths. He predicts it will be an exciting season.
"The three keys for this year will be our leadership ability, mental toughness and cohesiveness as a team," Butler said. "All of the players coming back understand this program and what is going to be expected of them.
"How well this team does in the 1997-98 campaign will be determined by how they respond to the expectations of this program. All will be battling for a starting job and every position will be up for grabs. Whoever can prove to us that they're ready to shine will win a starting spot."
This season, the Lions will demonstrate more experience and speed.
The returning senior is guard Courtney Allshouse, who averaged 7.8 points per game and 3.2 rebounds. Allshouse, a true workhorse for the Light Blue, started all but two games last season.
"This year will be a year that Courtney can relax. Last season was her first year back from her knee surgery, and she was a little tentative; this year she'll be able to go for broke and will be able to use this year to demonstrate her true skills. She should give us an added scoring punch at the off-guard position and her maturity, being a fifth-year senior, will lead a rather young and inexperienced team," Butler said.
The junior class is the largest one for the Lions with six returnees. They include: forward, Renee Jackson (5.9 ppg, 7.1 rpg); guard, Rose Jackson (6.9 ppg, 5.0 rpg); guard, Emily Roller (7.7 ppg, 2.4 rpg), and forward, Trinke Vaughan (3.9 ppg, 1.9 rpg).
Rose Jackson led the team in assists last year and ranked among the top ten in the league. Renee Jackson—sixth in the league in rebounding—grabbed a team-high 165 rebounds. Roller's three-point accuracy sent two games into overtime.
The sophomore class includes three return players: guard, Katie Sherwin (1.8 ppg, 2.3 rpg); center, Erin Erdman (1.5 ppg, 1.6 rpg) and forward Catherine Tubridy (5.1 ppg, 3.1 rpg).
The Lions' incoming first-years add some depth for the Light Blue, with Brie Cokos a 5'-10" guard from Haddonfield, N.J.; Alissa Niemi a 6-foot forward/center from Aberdeen, Wash., and Shawnee Pickney, a 5'-11" forward from Los Angeles, Calif.
"We wanted to add strength to our inside game this year," Butler said. "We needed to bring in some players who can play the post and who had proved themselves on the high school level."
Other newcomers for the Light Blue include: Lori Anderson, a 6'-0" forward/center from Lewisburg, W.Va., and Manju Chacko, a 5'-3" guard from Kensington, Md. Anderson should give the Lions some added size and strength in the post, while Chacko brings quickness and speed to the Lions' backcourt.
---