The Our Lady of Fatima Valentine's Basketball Tournament
will be renamed the
Tyler Ugolyn Basketball Tournament
in honor of Tyler Ugolyn.
OLF Athletic Director Matt Fair writes, "He is a perfect person to represent our school and let our kids see what type of person he was and the impact he had on other people. His quote; "Yesterday is history, Tomorrow is a mystery, Today is a gift from God" inspires us all."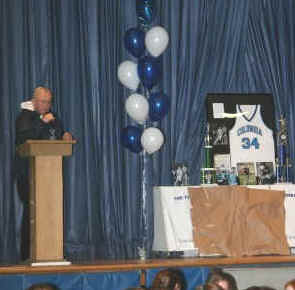 Father Palmer re-dedicates the OLF February
basketball tournament in honor of Tyler Ugolyn.
Directions to OLF School Application for teams to participate