OBITUARIES
Tyler Ugolyn '01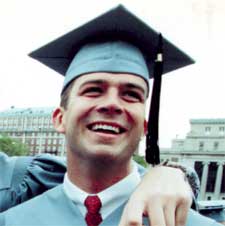 Tyker Ugolyn '01
PHOTO: EILEEN BARROSO

The following is edited from a tribute to Tyler Ugolyn '01 that was written by family and friends and appeared in his local newspaper, The Ridgefield (Conn.) Press.
Tall, good-looking, with a laugh that made others laugh with him, Tyler Ugolyn '01 led by example and turned his talent for sports into a vehicle to help others. The 1997 graduate of Ridgefield (Conn.) High School, a committed basketball star who earned his way to Columbia College as an athlete and a scholar, died at 23 on September 11, a victim of the World Trade Center attack.

Tyler, or "Ty" as he was affectionately known, was the son of Victor and Diane Ugolyn. Born on August 7, 1978, in Springfield, Mass., his basketball skill led him to be rated as one of the top 275 high school seniors in the country by Prep Stars Recruiter's Handbook during his senior year. He was named to First Team All Area and FCIAC Division. In addition, he was nominated to the 1997 McDonald's High School All-American Team and received honorable mention recognition from the adidas Blue Ribbon Handbook.

Although Tyler was co-captain of his varsity basketball team and also played varsity tennis and JV baseball, he took his studies very seriously. He was an honors student at Ridgefield H.S. and a member of the National Honor Society. He was active in Safe Rides, Young Life, Key Club, Future Business Leaders and Big Brothers Big Sisters. He also was a student-athlete representative for Parent to Parent, selected by the high school to discuss with parents of incoming freshmen how to balance academics with athletics.

A patriotic person, Tyler was one of four students awarded an internship to attend a summer week in Washington, D.C., to work with local and national government representatives. His essay on the Bill of Rights won recognition by the Library of Congress and the State of Connecticut in a national social studies competition.

An economics major at Columbia, Tyler continued his involvement on and off the court. Hampered by injuries, he ended his varsity basketball career in his junior year and channeled his energy into other activities. For his fraternity, Kappa Delta Rho, Tyler served as vice president, secretary and Webmaster.

A devout Catholic who attended Mass regularly and had a natural leadership quality, Tyler became one of the founding members of Columbia Catholic Athletes. He initiated and ran an inner-city youth basketball league for Harlem children, was active in the annual Columbia Outreach program and was a soup kitchen volunteer in Harlem.

He became a Eucharistic Minister and served as a sponsor for a friend who converted to Catholicism. He also participated as a Columbia representative, along with students from Poland, Spain, Argentina and Italy, in a transatlantic televised prayer service with Pope John Paul II to pray the Rosary in Latin for world peace.
After graduation, Tyler joined Fred Alger Management, an investment firm in the World Trade Center, as a research associate. He intended to go on for his M.B.A. and receive his C.F.A., become a portfolio manager, and eventually start his own investment management firm. He interned in summer 2000 with legendary money manager David Alger, whose wife said that her husband "didn't hire Tyler, he adopted him."

Tyler was never afraid to show his strong faith or his family commitment. His friends at Ridgefield and Columbia called him a self-assured, fun-loving guy who always found even the simplest things entertaining. "He was a presence," said one friend. "No, he was his own presence. He was an inspiration to be around. He was the centerpiece."

The September 24, 2001 issue of Sports Illustrated featured a tribute to Tyler, "Picture This Perfect – Tyler Ugolyn went from being a face on a missing person flier to a friend you wish you'd met." Our Lady of Fatima, his middle school, dedicated its flagpole in his memory, and Ridgefield High retired his basketball jersey No. 34 and hung it on the gym wall next to the American flag.

He loved Columbia, New York City, the Yankees and his 1992 GMC Typhoon. "Tyler lived a beautiful life with great friends," said his father. "He worked hard and played hard, touching so many people, and his legacy will live on through them."

The program at Tyler's memorial service contained his thoughts about a poem he wrote where he said, "There are things that every person carries with them that they wish they could have changed if they had a chance or could have been different all together. Mistakes will be made by everyone but must be accepted and not dwelled upon. Just living your life in the present is the best thing to do. There is nothing you can do about the things that have already happened, but the things in the future are for you to decide."
Tyler left behind many friends and family members including his parents and his younger brother, Trevor, a sophomore at Cornell.
A memorial foundation has been established in Tyler's memory: The Tyler Ugolyn Foundation, c/o Ridgefield Bank, PO Box 2050, Ridgefield, CT 06877. There is also a Web site in Tyler's memory, www.tylerugolyn.com