Ridgefield High remembers Ugolyn

By Susan Tuz
and Michael McKinney
2002-01-05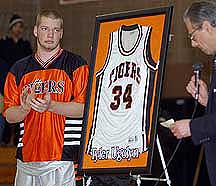 Scott Mullin
Ridgefield High School basketball player Daryl Yankowski, left, watches school Principal Ralph Ellis retire the jersey of former player and World Trade Center victim Tyler Ugolyn.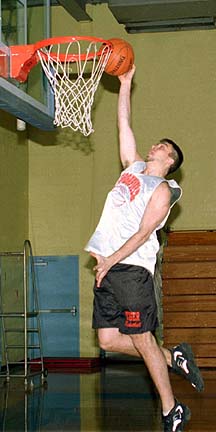 Ugolyn
RIDGEFIELD — The high school where Tyler Ugolyn had a stellar basketball career has paid homage to the man who lost his life at 23 when the twin towers in New York City collapsed in a terrorist attack.
Ugolyn's jersey, No. 34, was retired Wednesday evening prior to a game that would have made him proud — Ridgefield's 66-61 overtime win against its rival Stamford.
Ugolyn, a 1997 Ridgefield High School graduate, had a life full of promise. At 23, he walked out of Columbia University with a degree and walked into a job at the World Trade Center.
Former classmates remember him as one of the best students in a class full of overachievers.
"You knew he was going to be successful," said his friend, Melanie Lopes. "Nothing stopped him."
Others recall Ugolyn's more than 6-foot frame moving head and shoulders above the hallway mob. Or how he avoided cliques and spent time with many people during his high school years.
For many students, Ugolyn will be remembered for the way he dunked basketballs, defying the force that glued other Ridgefield High basketball players to the ground.
"Tyler was big on basketball," said former coach Al Trimpert. "It was his life."
In his senior yearbook, a photo shows Ugolyn standing next to Larry Bird, former forward for the Boston Celtics.
Trimpert remembered Ugolyn as someone who played every night. He noted that Ugolyn had his best season with the Ridgefield Tigers as a junior, averaging 21 points per game.