EX-TIGERS PLAYER MISSING
By Michael P. McKinney
and Lenn Zonder
THE NEWS-TIMES
2001-09-13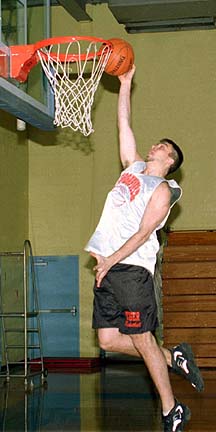 News-Times file photo
Tyler Ugolyn
RIDGEFIELD — Before terrorists rammed a jetliner into the tall building where he worked, Tyler Ugolyn could outmaneuver anyone.
"Tyler was big on basketball," said Al Trimpert, Ugolyn's coach at Ridgefield High School until he graduated in 1997. "It was his life."
Trimpert remembered Ugolyn as someone who played every night.
Sources who did not want to be named said Ugolyn is among at least four Ridgefielders who are missing and feared dead in the terrorist attacks that ripped into, then collapsed, the World Trade Center.
In his senior yearbook, a photo shows Ugolyn as a little boy standing next to Larry Bird, former forward for the Celtics.
Ugolyn, who attended Columbia University, enjoyed his best season with the Ridgefield High Tigers as a junior when he averaged 21 points per game, said Trimpert.
Ugolyn's parents could not be reached for comment. He has a brother who graduated from the high school as well, said Trimpert.
In a short yearbook commentary, Ugolyn quotes from the philosopher Friedrich Nietzsche:
"That which does not kill me, only makes me stronger."
First Selectman Rudy Marconi declined to name the missing four Ridgefielders out of concern for families' privacy and because the loved ones' status is not official. He said two of the four were on the flight from Newark that crashed in southwest Pennsylvania.
"The fear is the list may grow," said Marconi.
People in a standing-room crowd at St. Stephen's Episcopal Church Tuesday night prayed out loud, naming about two dozen people they were worried about. That included not only Ridgefield residents but also extended family members or friends living in other parts of the country.
Although there were plenty of positives — the high school reported no current students or their parents missing — others experienced the worst.
"We do know of a couple losses" in the elementary schools, said Carol Mahlstedt, chairwoman of the Ridgefield Crisis Team's mental health task force. The losses were the father of a student, she said, and the uncle of a student.
With the high number of Ridgefield residents who work in New York City every day — and many in the World Trade Center — the mood in this affluent community was particularly dark. There were stories of survivors, people who were in one of the twin towers but managed to get out in time. But there were also reports of a resident who was on the 104th floor of one of the towers, and never made it.
And there was the Ridgefield man who called from inside one of the towers to say he was trying to get out. No one heard from him again.
When news of the tragedy came on the air, Ridgefield put its crisis team into action. Six parent volunteers per school manned phones, trying to reach adults who were in the city but that children had not heard from.
At the high school, "We probably tracked down a half-dozen parents in the Trade Center — and all of them got out OK," said Mahlstedt, chairwoman of the crisis team's mental health task force. "We were astounded we could find that many."
At the high school, many students were relieved when their cell phones rang and moms and dads in New York said they were all right. Many had not heard from parents for hours.
"I think," said Mahlstedt, "the hardest thing for all of us is to have to hold despair and gratitude in your heart at the same time."
"Safe rooms" staffed by crisis workers were set up in the high school for students who wanted to talk between classes or felt too shaken up to attend class. Adults even loaned their cell phones to students who went outside to an athletic field to place calls to loved ones.
In the elementary schools, students were not told about what happened. Educators decided that should be left to parents.
A teacher and a parent rode every bus to be sure that students were met by an adult at home; if not, the students were taken back to school to wait.
Contact Michael P. McKinney
or at (203) 731-3358.